For programs with multiple stages of judging, the time will come to move entries between those stages and ultimately name a winner (or winners). Below you'll find instructions on how to monitor your judging, select finalists, and choose your winner(s).
Judging progress
Once a judging stage is nearing completion, you can check your judge's progress in the Manage workspace by going to Judging > Progress. This page offers a breakdown of your judges per score set, the number of entries they've been assigned, and their completion percentage. For more information, see our dedicated guide: Judging progress view.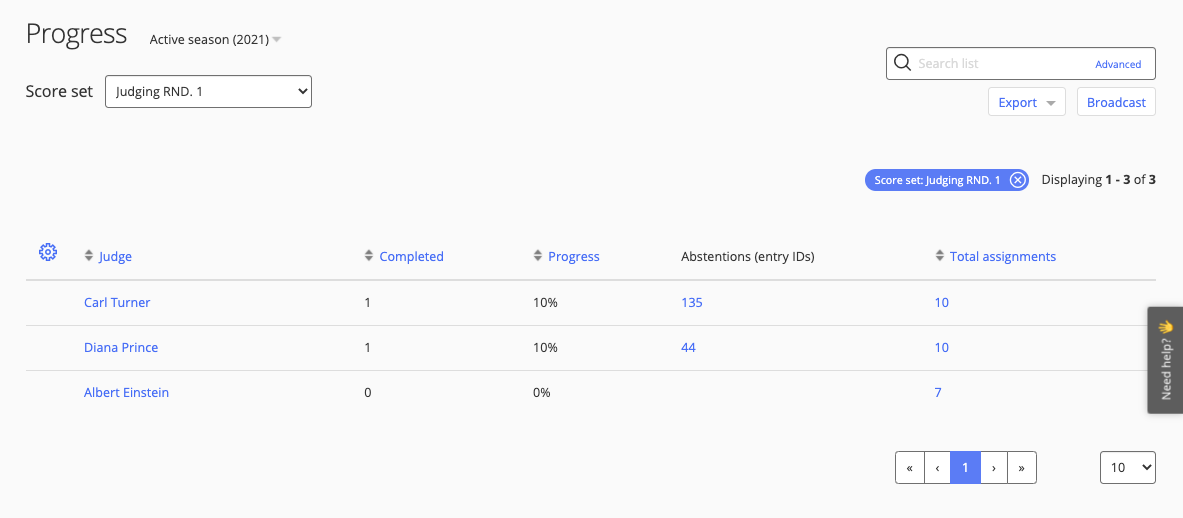 Tip:
you can
broadcast
to your judges from this page to encourage them to complete their assignments.
Judging results
The leaderboard, found by opening the Manage workspace and navigating to Judging > Leaderboard, is where you can find a list of entries and judging results for all categories. The default ordering shows the entries from highest to lowest score, most votes to least votes, etc. You can reorder the entries by clicking on the title in the table header.
For more information about the leaderboard, check out this article: Ultimate guide to the judging leaderboard.
Note:
you may need to
recalculate
the judging leaderboard to reflect any new judge scores or decisions.
With Award Force, the criteria for selection of shortlisting, finalists, and winners is completely flexible. It's up to you to interpret the judging stage results and then apply tags to entries that record the outcome of the judging stage. Those tags can then control, e.g.:
Entries that move to another judging stage

Awards, like badges and certificates, that are given to entries
Which entries may appear in galleries
Progress finalists/shortlisted entries to another stage of judging
From the Manage workspace, navigate to Judging > Leaderboard

Click the checkboxes next to the entries that should progress to the next stage

Click the Tag button

Input your desired tag into the resulting field

Click Tag

Go to

Judging > Panels

Create a

New panel
In the Entries section, select your relevant category(ies) as well as the tag you just created—this will limit entries visible to the panel to only those entries from the specified category(ies) with the selected tag
Configure the other sections of the panel; see: Create a judging panel
Click Save
Apply tags to indicate a judging outcome
In the Manage workspace, go to

Judging > Leaderboard

If you have more than one score set, choose the desired score set from the Score set drop-down

Filter by category using the search filter

Click the checkboxes next to the entries that should progress to the next stage

Click the Tag button

Input your desired tag into the resulting field

Click Tag

Repeat steps 4-7 for each category as needed