For in-person judging, activate a slideshow to project entry visual content (images and videos) to a large screen, directly from Award Force. Judges can follow along evaluating and discussing entries together.
Activate a slideshow
Go to Judging > Score sets
Click the score set that you would like a slideshow on
Find the check box option Slideshow view available and check it
Save, and that's it!
Now, for all judges using that score set, they will see a Slideshow button at the top left of their list of judging assignments, like this: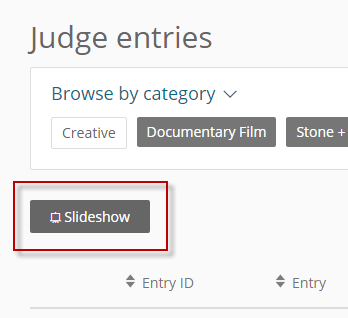 The slideshow launches in a new tab, with slideshow content at its maximum size
The slideshow will progress through every image and video from an entry, concluding with a summary contact sheet view of all visual content of the entry, before moving on to the next entry
The slideshow can be maximised on the screen with the full-screen control at top right
Filter a slideshow
From the judging list view, if you have any searches or filters applied (e.g. filter by category), the slideshow will only show entries that match that filter.