The Award Force dashboard provides account managers an at-a-glance view of what is happening within your program.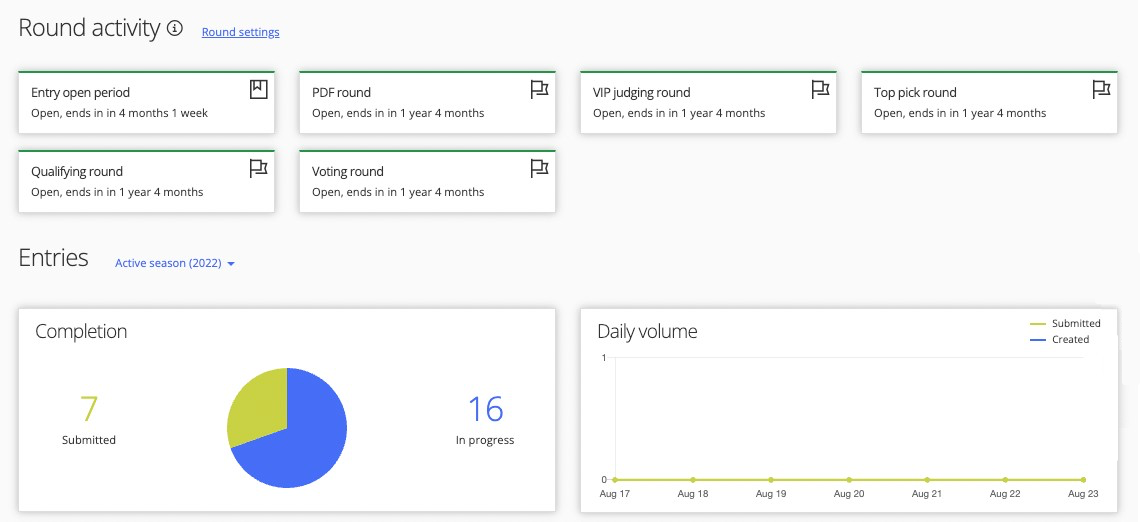 By default this includes:
A list of any active, or recently active, rounds
A breakdown of entries, either in progress or submitted by category and chapter
Statistics around your users by role, how many new users your program has seen over the past 30 days, and user activity
And modules for data volume, orders, and in progress entry fees
For more information on each of these sections, keep reading below.
Rounds
The dashboard comes equipped with cards for each of your program's active, or recently active rounds. 

Clicking on any of these cards will allow you to edit the round selected. If, for example, you wished to update the date or time that entires close, you could simply click on the entry round card to make that adjustment instead of navigating to Settings > Entries > Rounds. 
Entries
The largest section of the dashboard is dedicated to entries.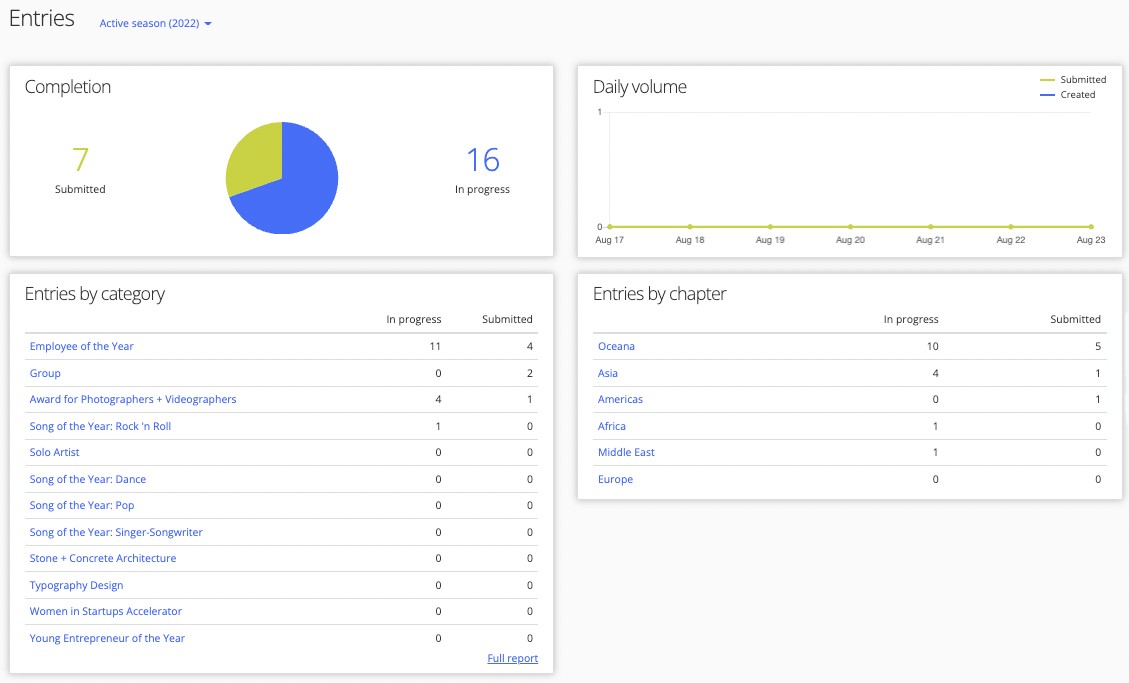 The 'Completion' pie chart shows a breakdown of entries that have been submitted against those that are in progress. 
Tip:
if you notice a discrepancy between the number of entries included in this chart versus the
Entries
view, this is likely due to
archived entries
or those that have been
resubmitted
. 
The 'Daily volume' graph indicates the number of entries that have been created and submitted on any given day over the past seven rolling days. 
'Entries by category' shows the number of in progress and submitted entries per category. Clicking the Full report link will display a combined page with this information as well as a daily volume graph with drop-downs to view previous seasons or specific chapters. 
Note: each table is limited to a maximum of 50 rows. For example, this means the 'Entries by category' table will only show 50 categories, even if you have more.
'Entries by chapter' operates in much the same way as the 'Entries by category' table, wherein the number of in progress and submitted entries is shown by chapter, if applicable. 
Users
To quickly view a tally of how many users your program has with each role, scroll to the 'Users' section.

This area also includes a 'New users' table showing the number of new users over the last 24 hours, seven days, and 30 days. 
'User activity' displays the number of users who are awaiting confirmation, users with entries, and entrants who have not created entries. 
Note: this widget is cached and cached and will update hourly.
Other information
The last three cards on the dashboard include information on the volume of data your program and the total amount of funds collected as well as the amount of fees in progress entries would generate if submitted. 

Note:
payments
are a feature of the Pro plan and above. If no default price has been set the 'In progress entry fees' module will not appear. 
Can I customise the dashboard?
While the sections and cards of dashboard cannot be moved or edited, our engineering team is working to build out this functionality in the future.