Configuring a category within Award Force is a straightforward process, with a number of options. Below you'll find the steps necessary to create a category as well as a breakdown of the options you'll encounter along the way.
Create a category
Go to Settings > Entries > Categories
When you click New category, you're taken to the Details tab with the current season selected by default
Setting a Parent category is optional. For more information, see our guide: Configure parent category (Video)
Category name is the label displayed across the system in relation to the category
The Description is displayed in the first tab your users see when creating an entry and updates as the entrant swaps category selection

The field supports markdown formatting
The intention of the description is to provide an overview of the category and entry criteria in enough detail so the entrant can easily evaluate if it is the right category for them to enter

Shortcode is optional but is recommended - it's helpful as a reference handle for entries

Use the shortest code you can to uniquely identify each category
Each entry is given a numeric ID unique to the account and has the short code appended (e.g. 123-AB) so that when tracking, arranging and managing entries, you have an easy handle on the entry's category

Selecting the Category is active checkbox means that category can be entered during an active entry round. Leaving this unchecked will prevent users from creating an entry into this category.
If Chapters are being used, in the right column you can set the chapters in which the category is available
Images
When configuring a category, the Images tab allows you to upload category sponsor logos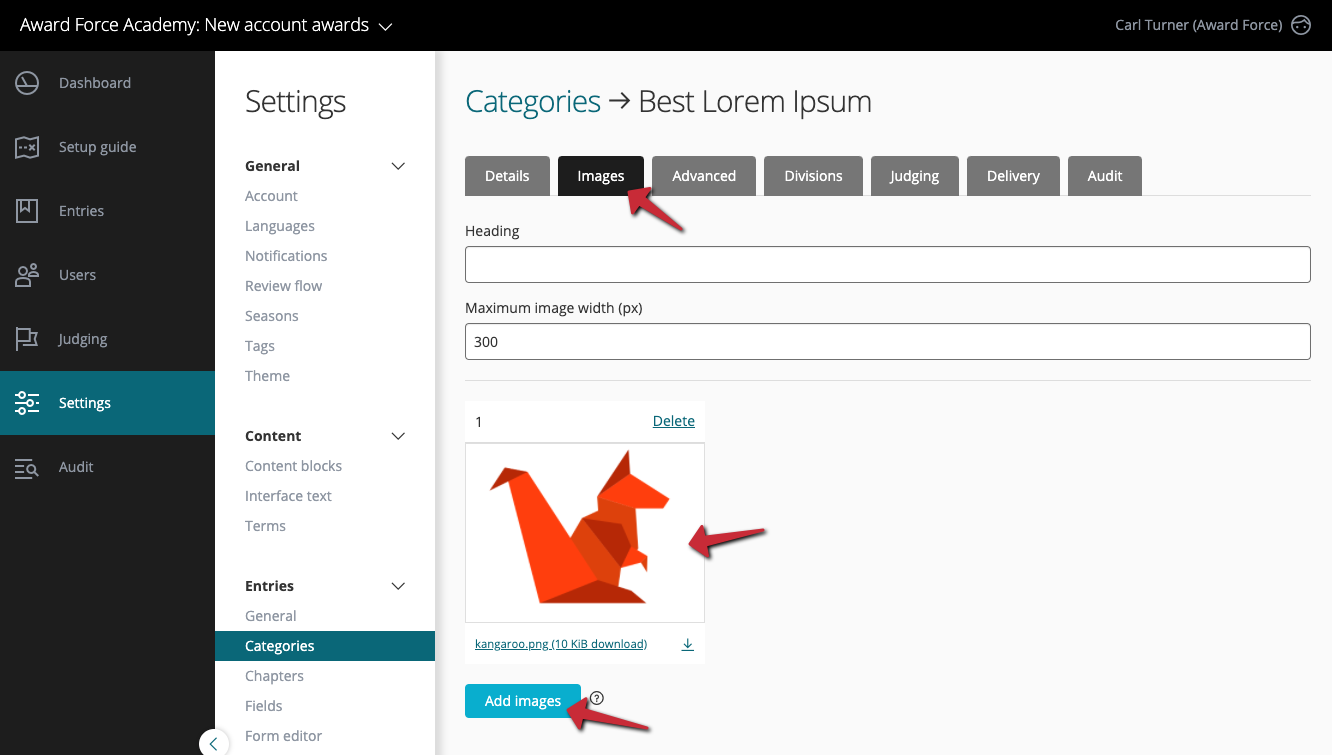 The logos appear in a vertical column to the far right when creating/managing an entry as seen in the screenshot above
Strictly speaking, category images can be anything, they don't have to be sponsor logos
A heading (such as "Category sponsors") can also be defined to display at the top of the column of images
Setting a maximum image width constrains the width at which images are displayed
If images are larger than the maximum width, they are automatically downsized
If images are smaller than the maximum, they remain at their original size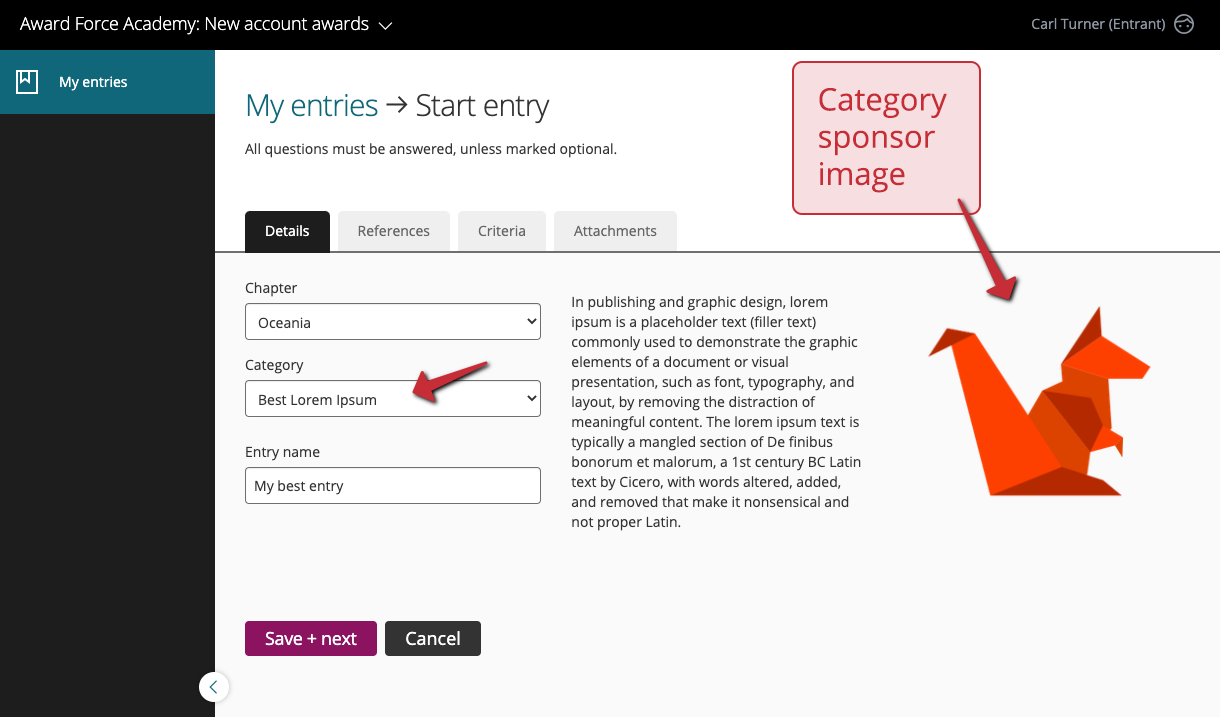 Note: Category images are available to clients on the Professional plan and above
Advanced
The Advanced tab allows you to create an optional maximum number of entries per entrant within this category
An Entry name label can be assigned that is unique to this category, i.e. Nomination name
Choose to pre-fill the entrant's name into the Entry name line
Divisions
Divisions are entirely optional but are used to break a category down into smaller groups of entries for assignment to judges, via Panels.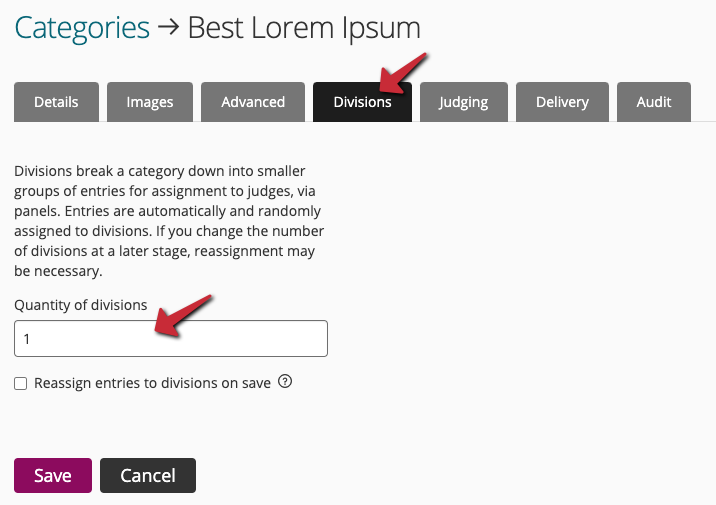 To configure divisions, simply follow the steps below:
1. Navigate to Settings > Entries > Categories
2. Select the Category you would like to add divisions to
3. Open the Divisions tab and set your number of desired divisions
4. Click Save
Your program's entries are automatically and randomly assigned into the divisions that you've created. If you are doing this after entries have closed or are still in progress, you could select the 'Reassign entries to divisions on save' option, this will randomly and evenly distribute all submitted entries across the divisions added.
Please note:
If you change the number of divisions at a later stage, reassignment may be necessary
Increasing the number of divisions does not require reassignment, additional divisions are empty and new entries go there
Decreasing the number of divisions necessitates reassignment
If judging entries has already started, reassignment will result in stray scores as some entries are inevitably assigned to a different division and different judges. It will be necessary to force scores to recalculate
Reassignment can be forced at any stage by checking Reassign entries to divisions on save, and saving the category
Delivery
Allow for a PDF packing slip to be available for submitted entries. For more information see: Packing slips
Video Overviews
Create a category
Configuration options (additional information)
Category images
Need more help? Get in touch!
We're here to help if you need it. Simply get in touch with our Client Success team through one of the methods available at the base of the page.