Configuring a category in Award Force is a straightforward process with a number of available configuration options to suit your needs. Below you'll find the steps necessary to create a category as well as a breakdown of the options you'll encounter along the way.
Create a category in the form editor
Open the Manage workspace, navigate to Entries, and click Edit form
Ensure that the Configuration mode toggle near the top right of the page is switched on
Hover your cursor over the Category drop-down and click the + icon

In the configuration tray on the right side of the page, provide a Category name
If desired, add a Description to provide your entrants with instructions or information


Tip:

category descriptions support

Markdown formatting

, allowing you to add bold, italics, links, and more.

The Shortcode will automatically be generated using the first 32 characters of your field's label and must be unique


Note: each entry is given a numeric ID unique to the account and has the short code appended (e.g. 123-AB) so that when tracking, arranging and managing entries, you have an easy handle on the entry's category.

If your category should be available to users, select the Category is active checkbox, leaving this option unchecked prevents entrants from viewing or creating submissions for this category; see: Prevent entry creation in a category
Save
Tip:
after saving, select this category from the drop-down and click the settings icon to configure the additional options mentioned below.

Additional configuration options
Images
When configuring a category, the Images section allows you to upload images related to the category such as a category sponsor logo or your organisation's logo.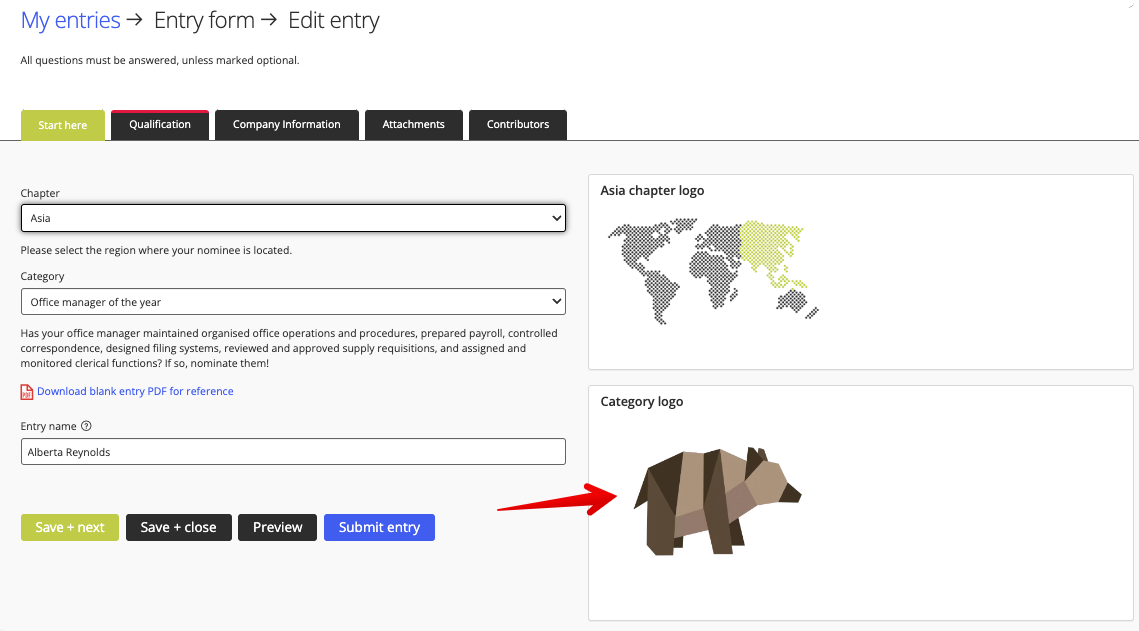 A Heading (such as "Category sponsors") can also be defined to display at the top of the column of images
Setting a Maximum image width constrains the width at which images are displayed

If images are larger than the maximum width, they are automatically downsized
If images are smaller than the maximum, they remain at their original size
Note: category images are available to clients on the Professional plan and above
Advanced
The Advanced tab allows you additional options to fine-tune your category's configuration.
Create an optional Maximum number of entries per entrant in this category value if, for example, users could only enter this category once, you would set the value to 1
An Entry name label can be assigned that is unique to this category, ex, 'Nomination name'
Choose to Pre-fill the entry name with the entrant name if your users are submitting entries that should be titled with their own name, ex. job applications or grants
Choose to Lock category on submitted entries to prevent users from changing the category associated with their entry after submission.
Divisions
Divisions are optional but are used to break a category down into smaller groups of entries for assignment to judges via panels.Your program's entries are automatically and randomly assigned into the divisions that you've created. If your category has 100 total entries and you create four divisions, each division will contain 25 entries.
Divisions are available for categories with fewer or odd numbered entries. In these cases, the platform will work to distribute entries evenly, but some divisions may hold more or less entries than others.
Important:
If you change the number of divisions at a later stage, reassignment may be necessary.
Increasing the number of divisions does not require reassignment, additional divisions are empty and new entries go there.
Decreasing the number of divisions necessitates reassignment.
If judging entries has already started, reassignment will result in stray scores as some entries are inevitably assigned to a different division and different judges. It will be necessary to force scores to recalculate.
Reassignment can be forced at any stage by checking Reassign entries to divisions on save and saving the category.
Delivery
Allow for a PDF packing slip to be available for submitted entries. For more information see: Packing slips.
Video overview
Need more help? Get in touch!
Simply send us a message via this form and we will get back to you quickly!
Our globally distributed client success team are here to help 24 hours a day, Monday to Friday (business hours).