An About page is a content block added to the left menu and visible to all logged in users. This can be a good place to add additional information about your program or terms and conditions.
Create an About page
In the Manage workspace, go to Settings >

Content > Content blocks

Click

New content block

Under

Location

, choose

About page

Add your content

Select your desired Role visibility

Click

Save
Tip: you can have more than one about page content block. Additional about page content blocks will appear in a collapsible menu similar to the image shown below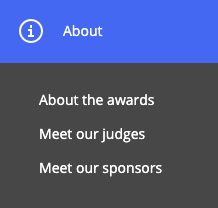 You could, for example, introduce the members of your jury (or even add photos of the members of the jury that you have previously hosted outside of Award Force, using the appropriate Markdown format).
Note: About pages are visible to all users (entrants, judges, program managers, etc.).
Change About page title
By default, the About page content block is called About. However, you may like to change it to something more appropriate for your program. To change it:
From the Manage workspace, go to

Settings > Content > Interface text

Click

New override
Under Content, choose Content block menu links about
Enter the text to be used for the label below

Click

Save
For other interface text options that can be changed, see Interface text changes
Need more help? Get in touch!
Simply send us a message via this form and we will get back to you quickly!
Our globally distributed client success team are here to help 24 hours a day, Monday to Friday (business hours).