Moderation is an optional feature for Program Managers to control which entries can proceed through to judging.
It's not required to moderate entries.
If you use moderation and want only approved entries to proceed to judging, there is a setting when configuring your judging panels to Only include moderation approved entries.
Moderation status is not visible to entrants. The entrant will never know the moderation status applied to their entries.
All entries have one of three moderation statuses. By default, all entries are 'undecided'. As a Program Manager, you can reject or approve entries at any time, or revert them back to undecided.
What do the moderation statuses mean?
Rejected: The entry will not go through to any judging round.
Undecided: The submitted entry will go through to judging, unless the judging panel is configured for approved entries only.
Approved: The submitted entry will show during judging.
How do I moderate an entry?
To moderate an entry, you have two options:
Individually:
From Manage entries, click on the entry name.
Under Moderation, select the status (Approved, Undecided or Rejected)
In bulk:
From Manage entries, select the checkbox to the left of each entry you want to moderate.
Under Action at top of the page, select Approve, Undecide or Reject.
From Preview:
You can moderate, tag and/or comment from the Preview of the entry too.

Tip: Your selections will be saved automatically. You can navigate away from the page without a worry!

Panel configuration using the moderation
When setting up a judging panel, there is a checkbox option in the Entries section of panel configuration to Only include moderation approved entries in this panel. By default, this checkbox is NOT selected. If you select this option, only submitted and approved entries will show to judges on this panel.

Who can moderate entries?
By default, Program Managers can moderate entries.
More specifically, when configuring roles, the "Entries (others) - View/Update" permissions are required to moderate.
For chapter managers to moderate entries, there is an additional setting Allow chapter managers to moderate entries under Settings > Entries > General: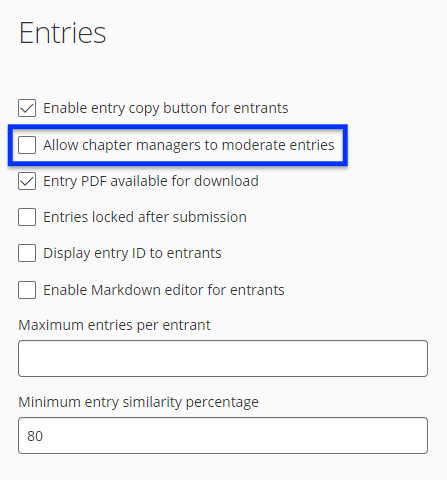 Need more help? Get in touch!
We're here to help if you need it. Simply get in touch with our Client Success team through one of the methods available at the base of the page.