Categories
Categories will display in alphabetical order by default. If you wish to show them in a particular order, you can place numbers or letters in front of the category name. For example:
01 Racing bikes
02 Cargo bikes 
03 Mountain bikes
04 City bikes

Here's how it will look on the category dropdown:

Important: make sure the numbering is two digits (eg 01,02,03..)
Fields
By default, fields will appear on tabs in the order they were created in. You can change this by adding a numeric value to the Field order which can be found at the bottom of the page for each field. We recommend using multiples of ten (10, 20, 30 etc) for the field order to make it easy if you later want to insert a new field between two existing ones.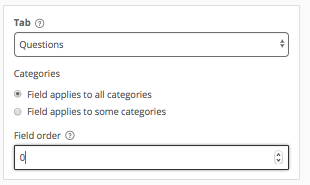 Need more help? Get in touch!
We're here to help if you need it. Simply get in touch with our Client Success team through one of the methods available at the base of the page.