What is multi-factor authentication? 
Multi-factor authentication (MFA) - sometimes referred to as two-factor authentication (2FA) - is a multi-stage verification method which adds additional layers of security to your account.
When enabled for your Award Force account, it adds a second verification method using an authenticator app or SMS. This means that if someone wants to hack into your account they not only need to steal your password, they'll also need to steal your mobile device!
We recommend enabling MFA for your own account and encouraging your users to do the same. Setting it up is very easy.
Enable MFA for my user profile
Click on your name at the top right and choose Profile from the menu
Go to the Security tab
Switch on the Multi-factor authentication toggle

Complete the setup process using your time-based authentication app like Google Authenticator
Once enabled you'll have the option to switch over to SMS authentication if you prefer. For SMS authentication you'll also need to add a mobile number to your account by clicking your name at the top right and choosing Profile. Then add and save your mobile number.
Important:
to learn about regional regulations and limitations association with SMS, check out our dedicated guide:
SMS limitations
.
Important: after you've enabled MFA, make sure you print out the recovery codes and put them somewhere safe. This is very important because if you lose your mobile device or it gets stolen you can use your recovery codes to access your account.
Enable MFA for a role
You can require MFA for specific roles. This will make it mandatory for users with that role. To do this, open the Manage workspace, go to Settings > Users > Roles, and check the option next to Require multi-factor authentication.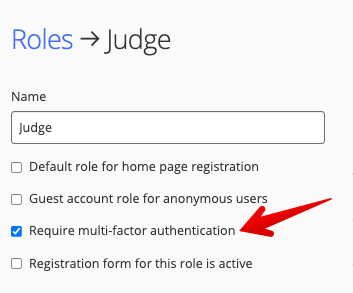 Troubleshooting MFA issues
There are a myriad of MFA tools available to your program's users. Each of these utilities is slightly different, but may encounter the same types of issues. These include lost backup codes, syncing problems, authenticator app glitches, or even network connection snags.
Check out the links below to view help documentation created by the most commonly selected providers to help troubleshoot. 
If issues persist, please contact Award Force support.