Social sharing buttons are placed in various locations around the system to encourage social sharing of your program. This is an optional feature that can be deactivated if not appropriate, for example, with internal company programs.
By default, 5x social sharing icons are displayed wherever social sharing buttons are placed. Which social networks/tools and their order are not fixed— they depend on the individual's social media behaviour, with the expected most relevant options being automatically displayed, in order to maximise the likelihood of engagement.
If you'd like to control which social networks/tools are displayed and their order, you can do so by creating a free account with AddThis (more on this below).
To configure social sharing
Go to Settings > General > Social (tab).
AddThis profile ID is optional. If you use AddThis for social analytics you can put your profile ID in here to track statistics and manage the buttons displayed. Please follow the instructions below if you are using the AddThis tool.
Default sharing message is passed to social networks that support seeding a message that the user can otherwise write or edit themselves. It's a good idea to write something that you would like your users to say when sharing a message about your program. Most commonly used by Twitter and Tumblr.
Share title is passed to social networks that support a title with the share. Most commonly used by Facebook, LinkedIn and Email.
Description is passed to social networks that support a description with the share. This also doubles as an SEO description. Most commonly used by Facebook, Tumblr and search engines.
Share image is passed to social networks that support an image share. Facebook recommends images of 1200 x 630 pixels (at least) for best display on high resolution devices. However, bear in mind that the image will be resized down to 470 x 246 pixels for preview display in Facebook news feeds and 506 x 253 pixels in Twitter feeds. Don't upload an image less than 200 x 200 pixels as they may not be used by social networks. Most commonly used by Facebook, LinkedIn and Tumblr.
Here's an example of what the result looks like in a Facebook news feed when an Award Force program account is shared: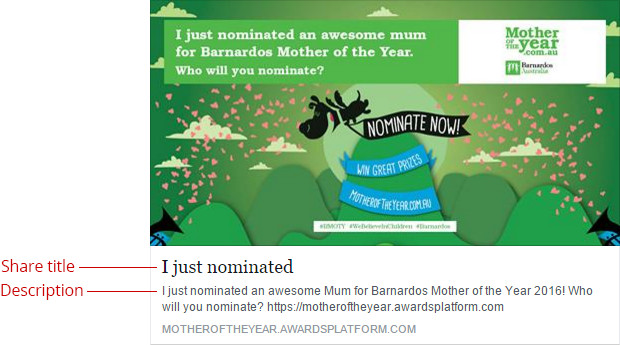 Using AddThis
Log in to your AddThis account and select Tools from your Dashboard:

Click the +ADD NEW TOOL button:


Select Share buttons and choose the Inline tool type - then click Continue.


On the first tab, if you would like to set the social media options that are displayed, choose Selected by you, and make your choices. Otherwise, leave the default setting as-is.


Then, select the right-most tab and paste in the web address of your program's home page:



Then click the Activate Tool button.
In Award Force, under Settings > General > Social (tab), simply add in your AddThis profile ID (found under Profile settings in AddThis)



That's it! You don't need to copy any code or do anything else.