If, after completing your VIP judging, you would like to provide your entrants with their scores, you can do so in a few easy steps.
Add a Feedback round
Go to

Settings > Judging > Rounds

Click

Add round to create a new 'feedback' round

, then name your round (e.g. Feedback round), and select

Feedback round

as the

round type

Set the Starts and Ends

dates of when you want your entrants to have access to judging results (If you set no start date, feedback will be available immediately. If you set no end date, feedback will be available indefinitely.)

Select the

Chapter(s) you want feedback to be available for (if your program has chapters)

Set the

Feedback options

(i.e. who will see the results)

Select the

Categories

you would like to share feedback

Choose to share Comments, Scores, and/or Category average


Example of a configured feedback round:


Click

Save
Note:
If there is more than one VIP judging score set, all score set scores are shown in feedback. Individual judge's scores are not shown, only the average of all judges.
Provide comments
If you choose to allow entrants to also see judges' comments, follow these steps:
Go to

Judging > Score sets

Click on the name of the

Score set

where you want to allow judges comments to be visible to entrants

From the

Display

tab, scroll down to the

Commenting widget and select the

Display comments on feedback view

checkbox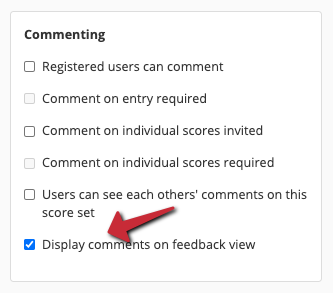 Tip: If you are deciding to provide feedback, it is a good idea to let the judges know in advance so they can provide useful and relevant comments.
See the entrant's view
To see the feedback yourself, go to Entries > Manage entries. Every judged entry will have a View feedback button. Clicking on the View feedback button will show you the judge's scores + comments in the same way it will be displayed to entrants.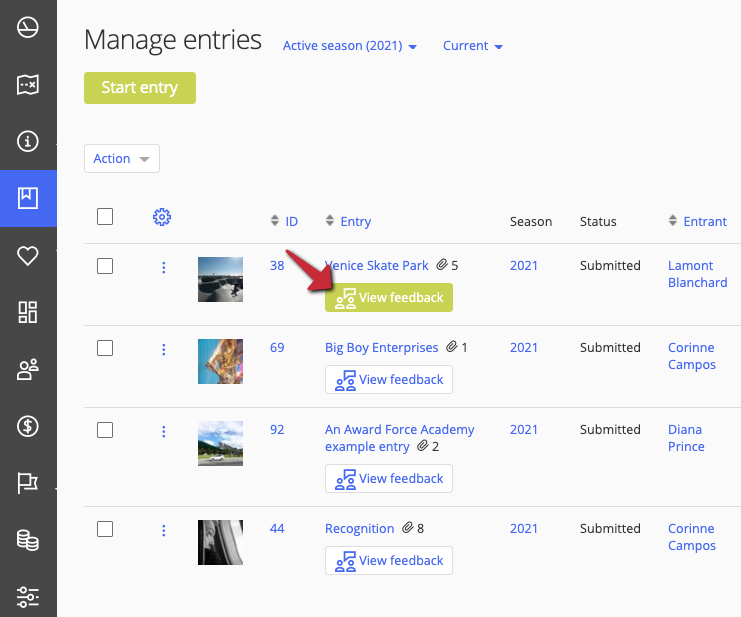 Need more help? Get in touch!
We're here to help if you need it. Simply get in touch with our Client Success team through one of the methods available at the base of the page.