Creating a panel is an integral step for judging configuration. When defining who will judge on a particular panel in the 'Who' section of the panel configuration, there are two options available: Any users with a role or Invited judges.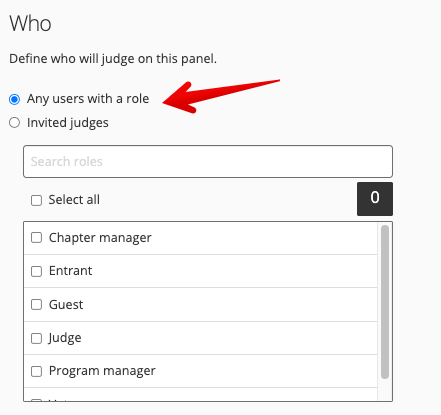 The first option, Any users with a role, is selected by default. This will display a list of all the roles available in your account and anyone with the selected role(s) will then be on the panel.
Selecting Invited judges will allow you to search for specific users by typing in their name or using the Advanced search to filter by a role. Note that this will only include users in the account who have a role with the 'Scores (own)' permissions set to 'Allow'. By default, the judge and manager roles have this permission already.
It is possible that other roles have been created or the permission settings adjusted for existing roles that require the 'Scores (own)' permissions to be set to 'Allow'. Before adjusting the settings to prevent such users from appearing in the panel list, ensure that doing so will not inadvertently disrupt another function of the role.
To learn more about judging panels, see this article. For more information on user roles and permissions, see our guide here.
Need more help? Get in touch!
We're here to help if you need it. Simply get in touch with our Client Success team through one of the methods available at the base of the page.