When viewing entries in the Entries of the Manage workspace, you may have found that there are three timestamps visible: Created, Updated, and Submitted. See below for a brief explanation of each of these timestamps.
Example 1: Entries list view

Example 2: manager's view of an entry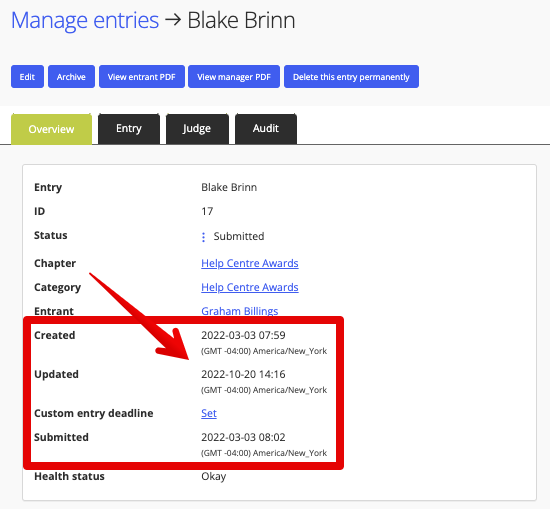 Created
The 'Created' timestamp shows the exact time that your entrant created their entry. This timestamp never changes and can't be edited.
Updated
The 'Updated' timestamp provides you the exact time of the last entry update, whether this is by the entrant themselves or a program manager (see our guide on roles and permissions here). An update could be a change within the entry itself or it could be when a tag or moderation was applied to the entry. This timestamp is in constant flux and may continue to change while your program/season is active. 
Submitted
The 'Submitted' timestamp shows the exact moment an entrant submitted their entry. This timestamp never changes unless the program manager reverts the entry status from submitted back to in-progress and the entry is then submitted for a second time.
The 'Submitted' timestamp is not included in your entries export by default, if you'd like to add it, programs with a Pro subscription and above can create a custom export. For more information, see: Ultimate guide to exports.