When viewing entries via Entries > Manage entries, you may have found that there are three timestamps visible: Created, Updated, and Submitted. See below for a brief explanation of each of these timestamps.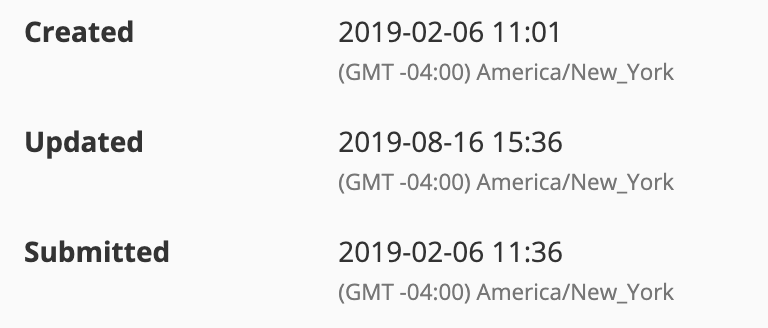 Created
The Created timestamp shows the exact time that your entrant created their entry.
Updated
The Updated timestamp provides you the exact time of the last entry update, whether this be by the entrant themselves or a Program manager (see our guide on roles and permissions here).
Submitted
The Submitted timestamp shows the exact moment that your entrant submitted their entry.
The Submitted timestamp is not included in your Entries export by default, if you'd like to add it, you can create a custom export, see our custom export guide here.
Need more help? Get in touch!
We're here to help if you need it. Simply get in touch with our Client Success team through one of the methods available at the base of the page.