Sometimes a judge may wish to be excused from judging a particular entry if, for example, there's a conflict of interest or they are associated with the entrant in some capacity and there is potential bias.
There are two options for a judge to not score an entry: they can abstain or be recused. Abstaining requires action from the judge while recusing requires action from the program manager.
Abstain
A judge can choose to remove themselves from judging a particular entry provided this option is enabled in the score set.
Go to Settings > Score sets
Choose the Display tab
Select the option next to Judges may abstain
When this is enabled, judges will see an option to Abstain from judging with each entry: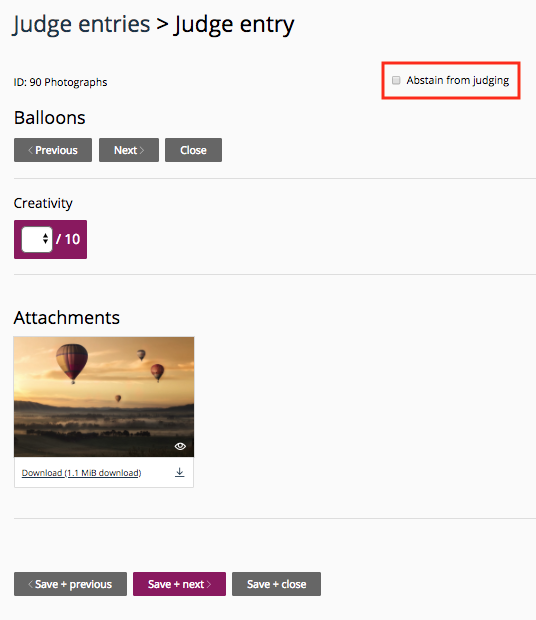 Ticking the box will disable inputting scores in the scoring criteria. If a judge abstains from scoring, they are not taken into account when calculating the average score (since they have not actually scored).
Recuse
A program manager may want to remove a judge from judging a particular entry. This is done at the entry level and does not notify the judge or affect their ability to judge other entries.
Go to Entries > Manage entires
Click on an entry
Click the Recuse a judge button at the top right


Search for the judge by typing some characters from their first or last name
Click Recuse
This will only affect the one entry from which they've been recused. They can continue judging other entries that have been assigned to them. Recusal is for individual entries only and must be done one entry at a time.
If a judge is recused after scoring an entry, their score becomes
stray
and is no longer counted towards the average score.
Bulk recuse
You may need to recuse judges in large batches all at one time, this is possible in Award Force, here's how:
Go to Judging > Assignments
Put a tick in the box next to each judging assignment you wish to recuse a judge from
Click the Recuse button at the top of the page
Tip: Use your Advanced search options on this page to filter by Category/Judge/Tag to more easily recuse judges in bulk.
Need more help? Get in touch!
We're here to help if you need it. Simply get in touch with our Client Success team through one of the methods available at the base of the page.