You can use Google Analytics to track and report on your program's traffic. To do this you'll need to get a Google Analytics tracking ID by setting up a property in your Google Analytics account. If you don't already have a Google Analytics account there are some instructions on the Analytics Help page.  
Once you have your tracking ID you can add it by opening the Manage workspace and going to Settings > General > Account. Please note the Google Analytics tracking ID generally starts with 'UA -' or 'G - ' followed by your tracking code.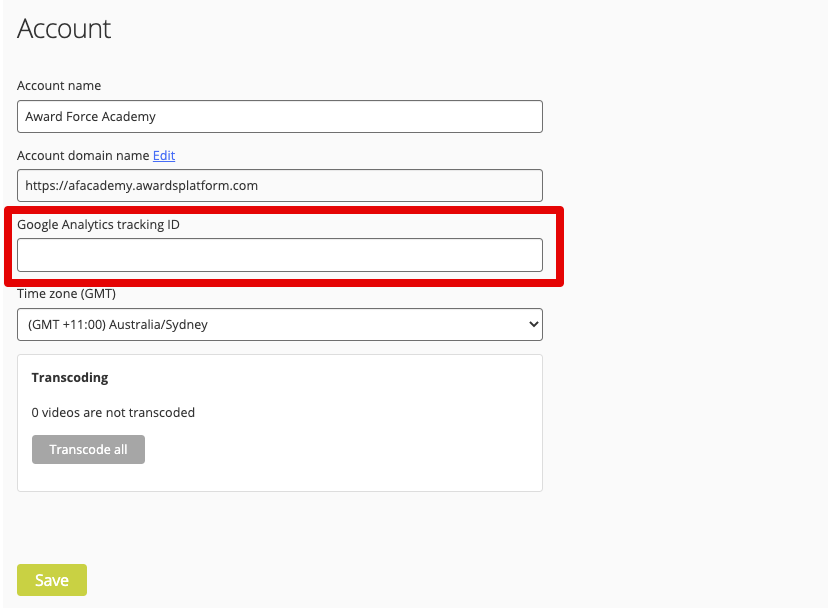 What can I track in Google Analytics? 
Outside of what is available in Award Force, Google Analytics can be used for additional data such as:
the volume of visits, page views to your program
average session time, time spent per user
demographics, country of visit
technology eg. type of browser, device used, PC versus mobile etc
comparisons of overtime periods
real-time traffic, etc.
Useful links:
Get started with Google Analytics 
Get help with Google Analytics 
Need more help? Get in touch!
Simply send us a message via this form and we will get back to you quickly!
Our globally distributed client success team are here to help 24 hours a day, Monday to Friday (business hours).